Alegria: a classical music concert in Toronto to celebrate Romania's national day (December 1, 2018)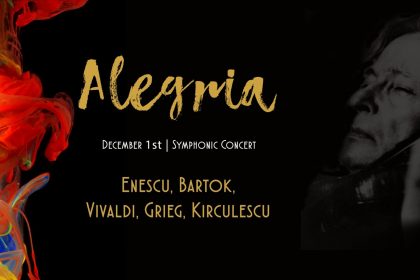 "The sacred mission of music is to bring souls together" George Enescu
On December 1st, Enescu's dearly loved "Romanian Rhapsodies" will delight the audience of the Isabel Bader Theatre, in an exceptional concert by Kindred Spirits Orchestra.
We are proud to partner up with KSO conducted by Kristian Alexander, for this concert that also features Béla Bartók's "Romanian Folk Dances", Antonio Vivaldi's famous Violin Concerto No. 4 "Winter", Edvard Grieg's thrilling "Piano Concerto", and Nicolae Kirculescu's impassioned "Musical moment" for piano and orchestra.
This wonderful concert is celebrating the National Day of Romania and 100 years since the Great Union! Let's celebrate together!
7:30 PM Pre-concert talk
8:00 PM Concert
Program:
Béla Bartók – Romanian Folk Dances
George Enescu – Romanian Rhapsody No. 1 and No. 2, Op. 11
Antonio Vivaldi – Winter (from "The Four Seasons")
Intermission
Edvard Grieg – Piano Concerto in A minor, Op. 16
Nicolae Kirculescu – Musical moment for piano and orchestra
Kristian Alexander: conductor (Canada)
Alexandru Burca: piano (Romania)
Alexander Gangurean: violin (Canada)
Hosts: Andreea Demirgian, radio journalist and writer and Michael Berec, composer and conductor
Box Office:
https://AlegriaSymphonicConcert.eventbrite.ca
When: December 1st, 8:00 PM
Where: Isabel Bader Theatre, 93 Charles St W, Toronto, ON M5S 2C7
Where is the closest parking?
-Parking meters along Charles Street West
-Charles Street West & St. Thomas Street
-Bloor Street (in between St. Thomas and University)
-Charles Street West and Bay Street
What is the best way to get there by TTC?
The theatre is just east of the Museum Subway station. Please see TTC information for further details.
The event is produced by Tradicious, a Canadian-based company that organizes cultural events and promotes Romanian cultural awareness.